The man suspected of knocking down a 93-year-old woman and breaking her hip while stealing her purse in Concord was arrested late Wednesday, according to Concord police.
Otto Halafihi of Oakland, 29, turned himself in to police in Patterson just after 9 p.m. Wednesday and was arrested on charges of robbery and elder abuse, Concord police said.
Halafihi was also found to be linked to a May 9 armed robbery at Lowe's Home Improvement store at Pacific Commons Boulevard in Fremont, according to police.
Police said the robbery suspect threatened to shoot store employees with a black semi-automatic handgun before picking up items he had been carrying and exiting the store.
The woman allegedly attacked by Halafihi on May 18, Ann Pederson, was hospitalized with a broken hip after Halafihi allegedly knocked her to the ground last week while stealing her purse outside a Bank of America in Concord.
The crime occurred in broad daylight as Pedersen was being escorted by a 63-year-old friend towards the bank.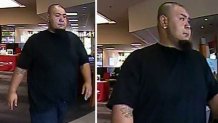 Police said Halafihi made the mistake of going inside the bank, where there are several surveillance cameras.
Pedersen is a 45-year resident of Concord, according to her son. She remained hospitalized after surgery for her broken hip. Her escort was uninjured.