A single bracelet and a simple question.
With those two ingredients, Chrissie Lam started a company and launched a movement.
Since its inception, Lam's Love Is Project has sold $2 million worth of bracelets, with money going back to the 1,200 artisans in the 10 developing countries where they are produced.
Lam has also sparked in online conversation about what people believe, "Love is …"
"The whole idea is paying it forward, having people feel connected and spreading love and helping create jobs for women," said Lam. "It is working, I think there's still work to be done."
Lafayette native Chrissie Lam left her hometown after high school to pursue a fashion and design career in New York City, which she quickly found and built a network around.
But even dream jobs at Abercrombie & Fitch and American Eagle were not enough to satisfy Lam's craving for philanthropy and making an impact on a global scale.
"They granted me a sabbatical in 2008 where I was volunteering and working on projects in Rwanda," she said. "I was testing the waters to see how to parlay my experience in design and my background network with the international development side of it."
Once the department Lam worked for came to a close, she had a decision to make: get back into the corporate world or continue working with female artisans and designers around the world.
She chose the latter of the two.
It was not much later that Lam ended up on a flight to Moscow with two women who sparked a conversation with her. She just happened to have a bracelet crafted by members of the Maasai Tribe in Kenya she called a "love bracelet."
Then, the question popped up.
"I was like, 'Hey I have this idea, I have this love bracelet with me, if you guys tell me what love means to you, I'll take a photo with my iPhone when we land at Moscow Airport and I'm going to do this for the rest of my trip'," said Lam.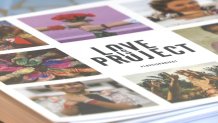 They agreed, and the Love Is Project was born.
Lam used the love bracelets as a conversation started with every person she ran into. She asked them, "What does love mean to you?", make note of their answers and snapped a photo of them for her personal collection.
Now Lam is wrapping up a Kickstarter campaign that aimed to raise money to publish her collection of "Love Is" photos and the stories that accompanied them.
"The Greatest Love Story Ever Told," is set to be released early next year. One of the donation packages even offers a trip to Kenya with Lam, for just a mere $10,000.
Throughout her journey, Lam was able to secure funds for hundreds of underprivileged female artisans in Kenya, India and Guatemala, among other places, to mass produce love bracelets for her photo project.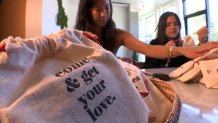 After pitching the idea to one of her well-connected mentors, the bracelets sold in stores like American Eagle and Whole Foods, bringing in more than $2 million in revenue.
"It was incredible how fast that happened from a photo project to in-store social media campaign," said Lam. "Then becoming a brand and then rolling this out in multiple countries and now its being its own brand."
Lam said the Love Is Project is as much about providing jobs for women in underdeveloped parts of the world as it is about the simple concept of spreading love.