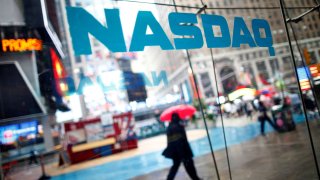 BY THE NUMBERS
The Nasdaq was poised to lead Wall Street lower again Monday, with futures tied to the tech-heavy index dropping 2%. Rising bond yields continued to pressure stocks as traders maintained their revolt against the Fed, doubting it can get inflation under control. Two key inflation reports are out Wednesday and Thursday. Futures trading pointed to a 400-point, or 1.3%, fall at the open for the Dow and a 1.7% decline for the S&P 500. (CNBC)

The first trading week of May marked the sixth straight weekly decline for the Dow, and five straight weekly drops for the S&P 500 and the Nasdaq. The Dow and S&P 500 remained in corrections, as defined by a drop of 10% or more from their recent highs. The Nasdaq fell further into a bear market, defined by a drop of 20% or more from its most recent high. (CNBC)
The benchmark 10-year Treasury yield on Monday topped 3.18%, after going above 3% last week for the first time since late 2018. Bitcoin plunged over the weekend and dropped another 5% on Monday, going below $33,000 as the world's largest cryptocurrency remained correlated to tech stocks and the Nasdaq. U.S. oil prices dropped Monday alongside stocks. (CNBC)
IN THE NEWS TODAY
Russian President Vladimir Putin on Monday tried to defend Moscow's unprovoked invasion of Ukraine in a speech on "Victory Day," annual celebrations marking the Soviet Union's victory over Nazi Germany. Putin urged his forces on to success in Ukraine, saying there's a duty to remember those who prevailed in World War II. Putin referred to the Donbas region in eastern Ukraine numerous times throughout the speech. (CNBC)

* Photos show Russia's massive 'Victory Day' parade in Moscow (CNBC)
* Dozens feared dead after bomb hits school in Ukraine's Luhansk region (CNBC)
China's two biggest cities, Shanghai and Beijing, tightened Covid curbs on their residents Monday, raising new frustration and questions about the legality of its uncompromising battle against the coronavirus. China is adamant that it will stick to its zero-COVID policy to fight a disease that first emerged in the city of Wuhan in late 2019, despite the mounting toll on its economy. (Reuters)
Ford Motor (F) is selling 8 million of its 102 million share stake in electric vehicle maker Rivian Automotive (RIVN) , according to sources who spoke to CNBC's David Faber. The move comes as the insider lockup period for selling the stock expires. Rivian went public in November and initially surged, before going on a long slide.
Uber (UBER) will cut back on spending and focus on becoming a leaner business to address a "seismic shift" in investor sentiment, CEO Dara Khosrowshahi told employees in a late Sunday email obtained by CNBC. "It's clear that the market is experiencing a seismic shift and we need to react accordingly," Khosrowshahi wrote.
Elon Musk detailed his financial goals for Twitter (TWTR) in an investor presentation obtained by The New York Times. Among his goals: quintuple revenue by 2028, cut the social media network's reliance on advertising and reach 931 million users by 2028 compared to 217 million at the end of 2021. Twitter fell 1.3% in premarket trading.
Facebook parent Meta Platforms (FB) on Monday will open its first physical store and showroom for its virtual reality headset technology. a gateway into the metaverse. Customers will be able to purchase the Quest 2 headset. Meta is also gearing up for a higher-end headset, currently referred to as Project Cambria and to be released later this year. (CNBC)
The Biden administration announced Monday that 20 internet companies, including CNBC and NBCUniversal parent Comcast (CMCSA), agreed to provide discounted service to low-income Americans, a program that could effectively make tens of millions of households eligible for free service through an already existing federal subsidy. (AP)
STOCKS TO WATCH
Palantir Technologies (PLTR) plunged 15% in premarket trading after posting a mixed quarter. Palantir reported profit of 2 cents per share, compared to a 4 cents a share consensus estimate. Revenue was higher than expected, however, despite slowing growth in its government business. The data analytics software company also issued a softer-than-expected current-quarter revenue forecast.
Coty (COTY) reported quarterly earnings of 3 cents per share, beating the penny a share consensus estimate. Revenue topped forecasts as well and the cosmetics company raised its full-year outlook on strong demand for its products. The stock rose 1.7% in the premarket.
Energizer (ENR) beat estimates by 9 cents a share, with quarterly profit of 47 cents per share. Revenue topped Street forecasts as Energizer raised prices. The stock gained 2.3% in the premarket.
Elanco Animal Health (ELAN) fell 4.3% in premarket action after the animal health products company lowered its full-year outlook, reflecting the impact of a stronger U.S. dollar. Elanco reported slightly better-than-expected profit and revenue for its most recent quarter.
Tyson Foods (TSN) rose 1% in the premarket after the beef and poultry producer beat profit and revenue estimates for its latest quarter. Tyson earned $2.29 per share, compared to a $1.91 a share consensus estimate.
BioNTech (BNTX) trounced Wall Street estimates for profit and revenue in its latest quarter, and also backed its prior outlook for 2022 including projections for sales of Covid vaccine, which it developed with Pfizer (PFE).
Shell (SHEL) – Third Point's Daniel Loeb told investors he has added to his stake in energy giant Shell, according to a letter seen by Reuters. Loeb said in the letter that he had held "constructive" talks with management, the board and shareholders about his call for the company to split itself up. Shell shares fell 2.6% in premarket action.
Southwest Gas (SWX) – Southwest Gas reached a settlement with investor Carl Icahn that will see the utility company replace its CEO and give Icahn as many as four board seats. Southwest Gas rose 1% in the premarket.
WATERCOOLER
Disney's (DIS) latest Marvel Cinematic Universe move "Doctor Strange in the Multiverse of Madness" grabbed $185 million domestically over its debut weekend, the highest haul of any movie released in 2022. It's estimated around 13.5 million moviegoers saw "Doctor Strange" over the weekend, the second most attended film since the pandemic started. (CNBC)
Copyright CNBCs - CNBC