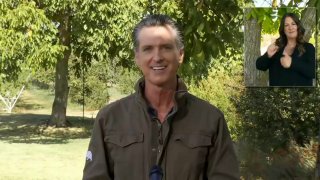 Gov. Gavin Newsom announced new efforts to fight climate change across California.
Standing in front of Sierra Orchards in Solano County, the governor announced a new goal to preserve 30% of land and coastal waters by 2030
"30 by 30 by 2030 is the mandate and the goal," the governor said. "We'll be the first state to do both land and coastal conservation and we will join other parts of the globe."
Newsom said this new effort is an audacious but achievable goal and is aligned with lower the carbon footprint and "greening" the economy of the state.
The new order consists on a number of strategies to store carbon in California's natural and working lands and remove it from the atmosphere.
To do so, the state will focus on the following:
Healthy soils management, including planting cover crops, hedgerows and compost applications
Wetlands restoration to protect coastal areas
Active forest management to reduce catastrophic risk and restore forest health
Boosting green infrastructure in urban areas like trees and parks.
"We cant forget about our deserts, our wet lands, we cant forget about our coasts, we cant forget about our ranches, we cant forget about our agricultures," he said while explaining California's environmental diversity.
Throughout the month of September, Newsom signed various executive orders and legislation to further his environmental efforts across the Golden State.
California will ban the sale of new gasoline-powered passenger cars and trucks in 15 years, establishing a timeline in the nation's most populous state that could force U.S. automakers to shift their zero-emission efforts into overdrive.
Newsom also held California Climate Action Day, where he had conversations with local, state and world leaders on a wide range of climate issues.
In mid-September, Newsom met with President Trump and other officials. The meeting revealed how divided the country is when it comes to climate change.
To read the full text for the recently signed executive order, click here.