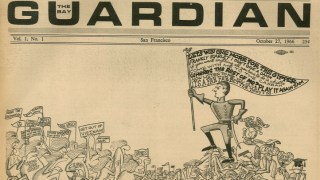 Almost one year to the day since San Francisco Bay Guardian was shuttered, the archives of the 48-year-old publication will have new life.
San Francisco Center for Newspaper Preservation, a nonprofit formed by former Guardian and current 48 Hills editor Tim Redmond and publisher Marke Bieschke, reached an agreement with the Guardian's last owner Black Press to take over the sfbg.com website and the newspaper's archives for non-commercial use, Redmond reported on 48 Hills.
Black Press currently publishes SF Weekly and San Francisco Examiner.
Bieschke told NBC Bay Area that they've received many requests for the election endorsement guides that were a signature of the Guardian's coverage and that, while the publication is not being revived, they'll publish a new guide this weekend and other special projects to be determined.
"We're so happy to share signature features like Best of the Bay, our Guardian Endorsements, art awards the Goldies and other such historical pieces of SF media again," he said. "Expect a big IndieGogo campaign and a series of wild fundraisers in the old Guardian spirit so we can host the website, properly store the archives, and keep the Guardian available in some way, shape, and form."