A man who has been on the run since a high profile homicide at a San Jose cemetery is behind bars.
San Jose police arrested Steve Ruiz Saturday night in Fremont.
Ruiz had been the subject of a statewide search since October 15 when witnesses said he shot and killed fellow Hells Angel member Steve Tausan at a funeral at Oak Hills Cemetery. Both Ruiz and Tausan were at the funeral of former San Jose Hells Angel president "Jethro" Pettigrew. Pettigrew was shot and killed in a Nevada casino in late September.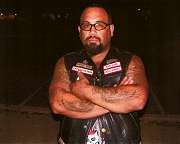 Police said Ruiz was able to slip out of the crime scene and has been on the run until this weekend.
Investigators said detectives "developed information in their investigation revealing suspect Ruiz's location" which was a Days Inn Motel on Warms Spring Blvd.
Ruiz was booked into the Santa Clara County Main Jail. His first court appearance is set for Wednesday.
Below is the mug shot released from the police department. It is the latest photo of Ruiz.
Published at 12:14 PM PST on Feb 27, 2012