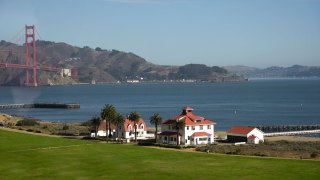 The Presidio Theatre will be reopening this weekend for the first time in 24 years after a $30 million renovation, according to theater officials.
The 600-seat theater, first opened in 1939, will officially reopen for a party on Saturday and will host a free open house with family entertainment and tours to the public on Sunday. More information about this weekend's events may be found at www.presidiotheatre.org.
Theater officials credit a substantial monetary gift from the Margaret E. Haas Fund as the reason behind the restoration that will return live music, theater, dance, film, lectures and events to the former military outpost's event center. The building used to screen films for military families and also hosted shows featuring Bob Hope and Jack Benny.
The theater is located on the Presidio Main Post at 99 Moraga Ave.